Feet, Hips and Hamstrings!
Yoga Foundation Workshop with Certified Yoga for Runners Instructor Marianne Moore
Tight hips and hamstrings are the result of sitting for many hours a can be exaggerated by running and other forms of athletics. Tightness in the hips and hamstrings can affect the lower back and can be downright painful!
If you have experienced lower back discomfort, stiffness in the hips and have difficulty touching your toes with straight legs, this workshop is for you! We will explore the movement of the hip joint, target the hamstrings and work on our feet while we work through a wide range of poses to both strengthen and stretch these commonly tight and weak major muscle groups!
Join Marianne Sunday 18th November from 10:00-11:30 at New Body Barn 2018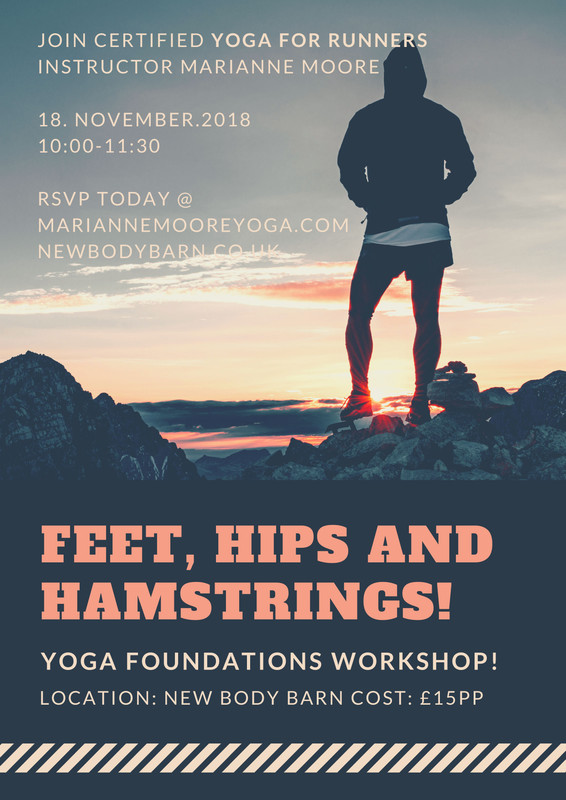 ---
YOGA WORKSHOP DAY - Sat 15th September
Yoga for Runners 8:30 - 09:30 am
A more vigorous vinyasa flow class will lead you through a flow sequence that focuses on strengthening areas that are typically tight (hamstrings, hips, quads). Sequences will also work on developing stability and strength necessary for those long miles! Class is suitable for all runners. More information. Contact Marianne
Slow Flow 10:00 - 11:00 am
Move through a vinyasa flow sequence of postures at a slower and mindful pace. Classes will wind down with a series of restorative poses that encourage relaxation and deep release. This class is suitable for all levels. More information. Contact Marianne
Yoga for Equestrians 15:00 - 16:00 pm
A more vigorous vinyasa flow class that will gently build strength and flexibility through breath and movement. Creative flow sequences with yogic breathing will work on developing your riders seat, stronger core, upper body and posture. Class is suitable for equestrians of all levels. More information Contact Marianne
Read more about Marianne Moore Yoga instruction at New Body barn here.
---
CREATIVITY AND WELLBEING WORKSHOP
Sunday 30th September 2018 10am to 4pm
With Earthspirit at The New Body Barn and Fired Thoughts Arts Studio
Arrive as yourself
Connect with your breath
Create with your hands
Unleash your inner creative, reduce stress and increase mindfulness as you experience a day of 2 yoga sessions and 2 art sessions.
This 6-hour workshop is something very special.
The day begins with a gentle energising yoga warm up, followed by an expressive mark making session.
Lunch will be a delicious locally sourced buffet, with hot and cold drinks also included in the price of the day.
The afternoon continues in the art studio where you will connect with the earth using clay and hand-building techniques. Ending the day with a restorative yoga warm down.
No previous experience of yoga or art is required.
£75 per person, including all materials for both classes.
Please advise when booking of any special dietary requirements.
​Places are limited and booking is essential.
Full booking details: www.earthspirit.biz or email: cheryl@earthspirit.org.uk
---
Pilates Beginners Workshop
For Beginners to Pilates who would like to find out more about the benefits of Pilates, this workshop is a great introduction.
You will be introduced to the basic principles of Pilates with some gentle stretching, posture awareness and finding your centre.
The workshop will be held on Wednesday 22nd Aug 2018, 18.30 to 20.00.
Cost: £15.00
To book please 'contact us'
---
Runninng Gait Analysis
Andy Watson is qualified pilates instructor with special skills and training in rehabilitation and running. Andy has worked with elite and recreational runners improving their form, technique and speed. More information about his new training offer is below. Gait analysis
Running gait looks at the mechanics of how we propel our bodies forward.
---
Transform your health - Transform your life
Saturdays, 14th and 21st March 2015
Hosted at New Body Barn by YOUNIQUE NUTRITION

Have you ever wanted to learn how to:
REDUCE MOOD SWINGS
REDUCE STRESS
INCREASE ENERGY
IMPROVE MEMORY
HAVE QUALITY SLEEP
CONTROL WEIGHT & REDUCE BLOATING
and have
YOUTHFUL SKIN
FOSTER HEALTHY
FRIENDSHIPS
MAKE YOUR PLANS WORK
OVERVIEW OF WORKSHOP ?
Learn how to manage and understand....
Fats, sugars, dairy, grains, soy, organic food,
Women's health and hormones, weight control, mood control,
Supplements, correct choice of exercise, breathing techniques,
Recipes, sleep tips, electro-magnetic fields, Emotional freedom technique,
Cooking without grains, sugar or dairy.
Join our fun workshops on Saturday 14th March and Saturday 21st March 11:00 -12:30

Included are demonstrations, samples and handouts.
Cost -£50 for both workshops. Booking is essential as places are limited.

To Book please call Diane on 07836 236 456 or collect a booking form from New Body Barn reception or download a form using the link below.
Downloads: Information Poster (pdf doc) Booking Form (Rich Text Format)
For more information about YOUNIQUE NUTRITION and Diane, please visit Diane's website.
---
Pilates for Riders - Improve the Harmony between You and Your Horse!
The workshop was held Friday 12th April 2014 and enjoyed by all who attended. Please call back for information about future workshops.

If you are a social or serious rider and want to know how you can get a little bit more out of yourself as well as your horse then this workshop may be of interest to you. Pilates has long been known to improve concentration, control, core stability, breathing, posture, stamina, flexibility, flow, strength and alignment.

We shall explore how various imbalances in the body are directly translated through to the horse perhaps giving it mixed instructions. The placement of your head over your shoulders over your pelvis are key while riding and training your horse and misalignment of these major body weights can have a huge impact in your and your horses balance. We shall also look at the stability in the shoulder girdle and how such small movements in the upper body are translated down the reins through to the horses mouth.
Cost £17 per person (payment in advance is required as places are limited).
Swiss balls used will be available to purchase after the workshop.
Download the Pliates for Riders flyer (pdf document).
Please 'contact us' for booking information.